FULL EXPOSURE: THE SEX TAPE SCANDALS (1989)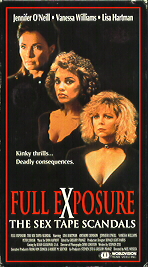 Category: Drama
Director: Noel Nosseck
Cast: Lisa Hartman, Jennifer O'Neill,Anthony Denison and Vanessa Williams
Run Time: 95 (mins)
Distributor Name:
WorldVision Home Video Inc. (US)
Video One Canada, Ltd. (Canada)
Summary: Following the murder of a high-priced call girl, rumors surface of a stolen sex-videotape starring her high-society clients. Streetwise cop James Thompson and his beautiful sidekick Sarah Dutton investigate and find themselves caught in a deadly web of underworld intrigue, corruption, blackmail and a videotape.

Also Known As:
Full Exposure: The Sex Tapes Scandal

Note: The actual movie is called "Full Exposure: The Sex Tapes Scandal" but whoever made the box and the label goofed the title.