Great American Traffic Jam (1980)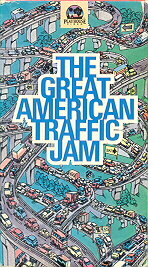 Category: Comedy
Director: James Frawley
Cast: Gridlock (1980) (TV) Directed by James Frawley
Cast: Lisa Hartman, Desi Arnaz Jr., Robby Reinhardt, John Beck (II), Noah Beery Jr., René Enríquez, Shelley Fabares, Phil Foster, James Gregory, Howard Hesseman, Michael Lerner, Rue McClanahan, Ed McMahon, Al Molinaro, Christopher Norris, Vic Tayback, Abe Vigoda, Lyle Waggoner and Marcia Wallace
Run Time: 97 (mins)
Distributor Name: trimark, playhouse video
Summary: The action begins when the senior citizen number one speed demon tries to pass her driving test for the 100th time. Her high-octane antics set the L.A. Freeway into a tailspin and pretty soon, everyone is sitting bumper to bumper, going nowhere fast and furious with real outrageous roadside manner.

Also Known As:
Gridlock

Note: Lisa is in a band in the film and sings two great songs. "Fallin' in love with love" and "Waiting for a miracle".