Search For Grace (1994)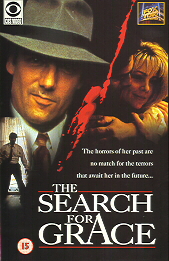 Category: Suspense Drama
Cast: Lisa Hartman, Ken Wahl, Richard Masur, Suzzanne Douglass, Don Michael Paul, Lorri Lindberg, Evan Rachel Wood, Ann Donnell, Delbert C. Taylor, Winston Hemingway, Charles McLawhorn, Mark Miller I, Stephanie Wood, D.L. Anderson and Alex Van.
Run Time: 89 minutes
Distributor/Cat number: 8189 (20TH CENTURY FOX HOME ENTERTAINMENT)
Summary: A successful woman begins to experience anxiety attacks from the moment her boyfriend proposes. A trip to a psychiatrist reveals a previous life.